≪超お買得商品≫ページへ戻る。
【銀行振込・クレジット限定】
MUSCLE PHARM AMINO 1 50servings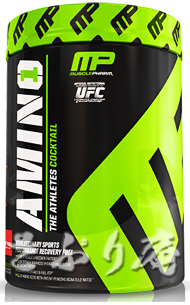 激得価格 6,800円
Cherry Limeade・Fruit Punch・Lemon Lime・Orange Mango・Pineapple Mango・Strawberry Margarita
お支払方法は【銀行振込】【クレジット決済】のどちらかをお選びください。
航空便等の影響により多少粉漏れを起こしている場合があります。
あらかじめご了承ください。
お支払方法は『銀行振込』『クレジット』からお選びいただけます!
ご注文後直ぐにお振込いただければ、入金確認後手配して最短3-5日で到着!
クレジット決済は即手配して最短3-5日で到着!
(弊社/取引先の土日祝日・特別休暇等除く。振込の時間帯によっては即手配できない場合があります。取引先に在庫がある場合に限ります。)
通常7日程度で到着となっております。
アメリカからの直送となりますので日時の指定が出来ません。ご不在の場合は不在票が投函されますので記載されている連絡先へ再配達のご希望日時のご指定・ご要望をお伝えください。
お勧めアミノ酸サプリメント
MUSCLE PHARM AMINO 1 成分表
Cherry Limeade
Serving Size 14.36g (1 scoop)
Servings Per Container Approx.:50
Calories 5
Total Carbohydrates 1 g
Sugar 0 g
Vitamin C (As Ascorbic Acid) 250 mg
Vitamin B6 (As Pyridoxine Hcl) 25 mg
Calcium (As Calcium Silicate) 48 mg
Phosphorus (As Potassium And Sodium Phosphate) 58 mg
Magnesium (As Oxide) 200 mg 50%
Sodium (As Sodium Phosphate) 40 mg
Potassium (As Potassium Phosphate) 100 mg
Instantized BCAA's Patented Pending 3:1:2 Blend 3,000 mg
L-Leucine (Instantized) 1,500 mg
L-Isoleucine (Instantized) 500 mg
L-Valine (Instantized) 1,000 mg
Cellular Energy & ATP Fueler 4,775mg
L-Glycine, L-Alanine, Citrulline DL-Malate 2:1, L-Carnitine L-Tartrate, Coenzyme Q-10
Amino Hydrate System 2,323mg
L-Taurine, Coconut (Cocos Nucifera) Water Powder, Beet Root Extract (Beta Vulgaris) , Containing Betaine (High in Nitrates), Goldenseal Root Powder (Hydrastis Canadensis), Sarsaparilla Root Powder (Hemidesmus Indicus), Slippery Elm Bark Powder (Ulmus Pumila)
Other Ingredients:
Malic Acid, Citric Acid, Natural And Artificial Flavors, Red Beet Juice Powder (For Color), Sucralose, Acesulfame Potassium, Salt
Allergen Warning:
This Product Was Produced In A Facility That May Also Process Ingredients Containing Milk, Egg, Soybeans, Shellfish, Fish, Tree Nuts, And Peanuts.
Directions For AMINO1:
Take one (1) serving (1 scoop) of AMINO1? mixed into 12-16 oz. (354-473mL) of cold water, either before, during, or after a workout. On non-training days, consume throughout the day, or as directed by a qualified healthcare practitioner.
Warnings: Consult your physician before using this product if you are taking any prescription or over the counter medications or supplements. Do not take if you are pregnant, contemplating pregnancy or nursing. Discontinue use and consult your health care professional if you experience any adverse reaction to this product. Do not exceed recommended serving size or suggested use. Keep out of reach of children.
≪超お買得商品≫ページへ戻る。