【銀行振込・クレジット限定】 ≪激得!≫
ULTIMATE NUTRITION Horse Power X 225g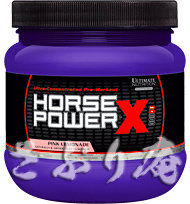 激得価格 5,550円
Blue Rasberry・Pink Lemonade
気に入ったら、超お買得セットへ!
3本セット@4,500円
2本セット@4,800円
単品@5,550円
お支払方法は【銀行振込】【クレジット決済】のどちらかをお選びください。
お支払方法は『銀行振込』『クレジット』からお選びいただけます!
ご注文後直ぐにお振込いただければ、入金確認後手配して最短3-5日で到着!
クレジット決済は即手配して最短3-5日で到着!
(弊社/取引先の土日祝日・特別休暇等除く。振込の時間帯によっては即手配できない場合があります。取引先に在庫がある場合に限ります。)
通常7日程度で到着となっております。
アメリカからの直送となりますので日時の指定が出来ません。ご不在の場合は不在票が投函されますので記載されている連絡先へ再配達のご希望日時のご指定・ご要望をお伝えください。
構造上、空輸致しますと気圧の変化で粉漏れ・袋の破れ等が起こることがございます。ご購入のお客様はその旨を予めご了承ください。よろしくお願いいたします。
---
プレワークアウトサプリメント『ULTIMATE NUTRITION Horse Power X 225g』
ULTIMATE NUTRITION Horse Power X 成分表
Blue Rasberry
Serving Size: 1 Scoop (about 5 g)
Servings Per Container: 45
Amt. Per Serving
Calories 0
Total Carbohydrates 0%
X-1 ENGAGE
Niacin 17 mg
Vitamin B6 (as Pyridoxine Hydrochloride) 17 mg
Vitamin B12 17 mcg
L-Tyrosine 167 mg
X-2 EVOLVE
Creatine Monohydrate 1,167 mg
Beta Alanine 1,067 mg
L-Citrulline 1,000 mg
TORABOLIC Fenugreek (Seed) 167 mg
[Containing 70% Trigimannose]
CapsimaxR Capsicum Extract 33 mg
(Fruit) [Containing 2% Capsaicinoids]
X-3 EXCEL
Caffeine Anhydrous 83 mg
Razberi-KR Raspberry Ketones 67 mg
Other Ingredients:
Natural And Artificial Flavors, Citric Acid, Malic Acid, Sucralose, Acesulfame Potassium, FD&C Blue #1
Directions For Horse Power X:
On training days, lightly shake the bottle with the cap on, then:
Beginners:
Mix 1 scoop with 40 ml (1.35 oz) of cold water.
Advanced:
Mix 2 scoops with 80 ml (2.71 oz) of cold water.
Professional:
Mix 3 scoops with 120 ml (4.06 oz) of cold water.
We strongly recommend starting with 1 scoop to assess your tolerance to the ingredients in this product. It is recommended that you do not use this product if you are sensitive to any of its ingredients. Drink immediately after mixing. For best results, take Horse PowerR X 15 minutes before working out. Do not exceed 3 scoops in any 24-hour period.
Warnings:
Discontinue use and consult a physician if you experience any unusual symptoms. Do not use Horse PowerR X if you are under 18 or over 50 years of age. Do not use if you are pregnant, nursing, or are trying to become pregnant. Do not combine Horse PowerR X with other caffeinated products. Each scoop of this product contains approximately the same amount of caffeine as 5 oz of coffee. Too much caffeine may cause nervousness, irritability, sleeplessness, and occasionally, rapid heartbeat. We recommend not consuming Horse PowerR X within 4 hours of bedtime. Consume at least 122 oz (3,600 ml) of water each day you take Horse PowerR X. After every 6 weeks of continuous use, we recommend discontinuing use for 2 weeks. Consult a doctor or healthcare professional before using this or any dietary supplement, before beginning any type of exercise program, if you have any type of pre-existing medical condition (including family history), or are taking any type of medication. If you are a competitive athlete, check with your sports association before using this product.
≪激得セット!≫ページへ戻る。