【銀行振込・クレジット限定】 ≪激得!≫
SCIVATION PSYCHO 306g 3本セット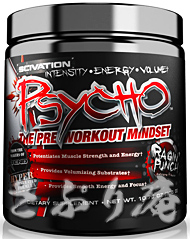 激得価格 13,800円
1本あたり 4,600円
Apple Asylum・Ragin Punch
気に入ったら、超お買得セットへ!
SCIVATION PSYCHO 306g 3本セット
SCIVATION PSYCHO 306g 2本セット
SCIVATION PSYCHO 306g 単品
お支払方法は【銀行振込】【クレジット決済】のどちらかをお選びください。
お支払方法は『銀行振込』『クレジット』からお選びいただけます!
ご注文後直ぐにお振込いただければ、入金確認後手配して最短3-5日で到着!
クレジット決済は即手配して最短3-5日で到着!
(弊社/取引先の土日祝日・特別休暇等除く。振込の時間帯によっては即手配できない場合があります。取引先に在庫がある場合に限ります。)
通常7日程度で到着となっております。
アメリカからの直送となりますので日時の指定が出来ません。ご不在の場合は不在票が投函されますので記載されている連絡先へ再配達のご希望日時のご指定・ご要望をお伝えください。
構造上、空輸致しますと気圧の変化で粉漏れ・袋の破れ等が起こることがございます。ご購入のお客様はその旨を予めご了承ください。よろしくお願いいたします。
---
プレワークアウトサプリメント
筋力、スタミナ&エネルギーを増強サポート
精神集中向上サポート
エネルギーサポート
無限マッスルブレンドとしてクレアチン・タウリン・ベータアラニンを含有。
シトルリンで血管拡張・血行向上をサポート。
SCIVATION PSYCHO 成分表
Apple Asylum
Serving Size: 1 Level Scoop (5g)
Servings Per Container:60
Amount Per Serving
Total Carbohydrates 1 g
Sugars 0 g 0%
Vitamin A (as Beta Carotene) 11 IU
Vitamin C (as Ascorbic Acid) 11 mg
Thiamin (as Thiamine Mononitrate) 13 mg
Riboflavin (as Vitamin B2) 7 mg
Niacin (as Niacinaminde) 11 mg
Vitamin B6 (as Pyridoxine HCl) 3 mg
Vitamin B12 (as Cyanocobalamin) 3 mcg
Pantothenic Acid (as Calcium Pantothenate) 3 mg
Vitamin K2 (as Menaquinone-7) 1 mcg
Calcium (as Calcium Silicate) 25 mg
Limitless Muscle Blend 2,500mg
Creatine Monohydrate, L-Taurine, Beta-Alanine as CarnosynR, Glucuronolactone, Inositol, Ubiquinol (CoQ10)
Blow-Up Blend 1,358mg
Citrulline Malate, CAPROSR Indian Gooseberry (Phyllanthus emblica) (extract) (fruit), Higenamine HCL
Possessed Cognitive Blend 133mg
Caffeine (as Caffeine Anhydrous 100 mg per scoop), Dendrobium nobile (extract) (stems & aerial parts), Sceletium Tortuosum (extract) (leaves & stems)
Other Ingredients:
Citric Acid, Natural & Artificial Flavor, Silicon Dioxide, Polydextrose, Sucralose, FD&C Red Lake #40, FD&C Red #40., FD&C Blue Lake #1.
Contains: Soy.
Directions For Psycho:
As a dietary supplement, consume 1-3 scoops 30 minutes prior to workout. Drink plenty of fluids during workout. Initially, it is recommended to consume 1-2 scoops to gauge tolerance. After establishing tolerance, mix 1-3 scoops, in 6-12 ounces of water and consume 30 minutes prior to workout. Never exceed more than 3 scoops within a 24-hour period.
Warnings:
Not intended for use by persons under the age of 18. Do not use in combination with caffeine or any stimulants from other sources whatsoever, including but not limited to, coffee, tea, soda and other dietary supplements or medications. Do not use under extreme conditions of heat, sleep deprivation or dehydration. Do not combine with alcohol. Consult your physician or licensed healthcare professional before using this product, especially if you are using any prescription or over the counter medication or if you have any pre-existing medical disorder, psychiatric disease, diabetes, difficulty urinating due to prostate enlargement or if you are taking a MAOI (Monoamine Oxidase Inhibitor) or any other medication. This product contains caffeine and should not betaken by individuals wishing to eliminate this ingredient from their diet. Discontinue use 2 weeks prior to surgery. Discontinue use and consult your health care professional if you experience adverse reaction to this product. Do not exceed recommended serving. Do not use if safety seal is broken or missing. KEEP OUT OF REACH OF CHILDREN. STORE IN A COOL, DRY PLACE AND AVOID EXCESSIVE HEAT AND MOISTURE.
≪激得セット!≫ページへ戻る。